Meet The Designer Behind Our Handmade Christmas Baubles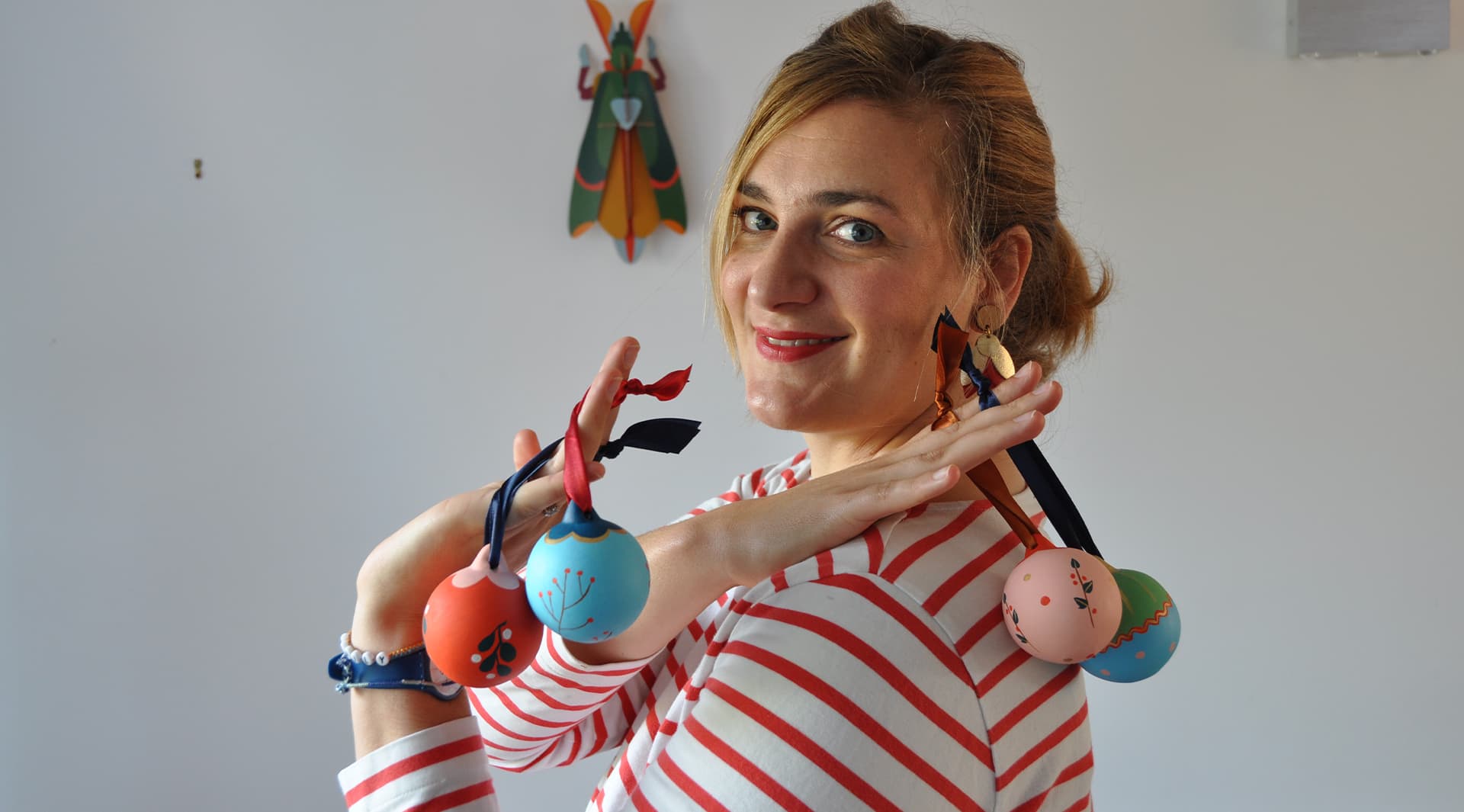 Meet Heloise Petitpois the designer behind our handmade Christmas baubles and discover her inspiration and journey as a designer.
Can you tell us about your journey as an illustrator, designer, and maker? What sparked your interest in being a creator, and how did you get started?
For as long as I can remember I've always loved drawing, painting and creating.
I learnt to sew at a young age with my mum, to knit with my grandmother, to use sanding tools with my dad, to plant and grow vegetables and flowers. My grandmothers' tin of buttons was like a treasure chest, I was allowed to use the fabric of my dad's beautiful old shirts and would make soft toys out of them. I realise that these skills I learnt along the way do have a great impact on my work today. 
I studied at a brilliant art & design school in Paris where I specialised in interior design. At the time I already had a little business on the side selling hand sewn creations and jewellery. 
When moving to the UK I started working as a creative designer in renowned interior design studios in London. I was sketching lots and my colleagues started to ask me to draw their custom birthday cards, logos, travel maps, or commission me to paint and create bespoke gifts. I loved doing this more than sitting at a desk to be fair. I enjoyed the diversity of projects, the challenge of coming with ways to make things I had never made and the manual side of things that I was greatly missing. I gradually decreased the amount of days working in the office to develop my illustration & design business. A few months before covid hit, I had left my company in London to launch my own.
I now work for a wide variety of clients, individuals and companies, and each project is so different. I'm very lucky that work comes to me - it is very much word of mouth based, people recommending my services and products. I'm so glad I had enough faith for my passion to become my daily job, it's definitely not easy but so worth it. I am juggling the mumpreneur work life balance and love the flexibility it gives me to look after my child too.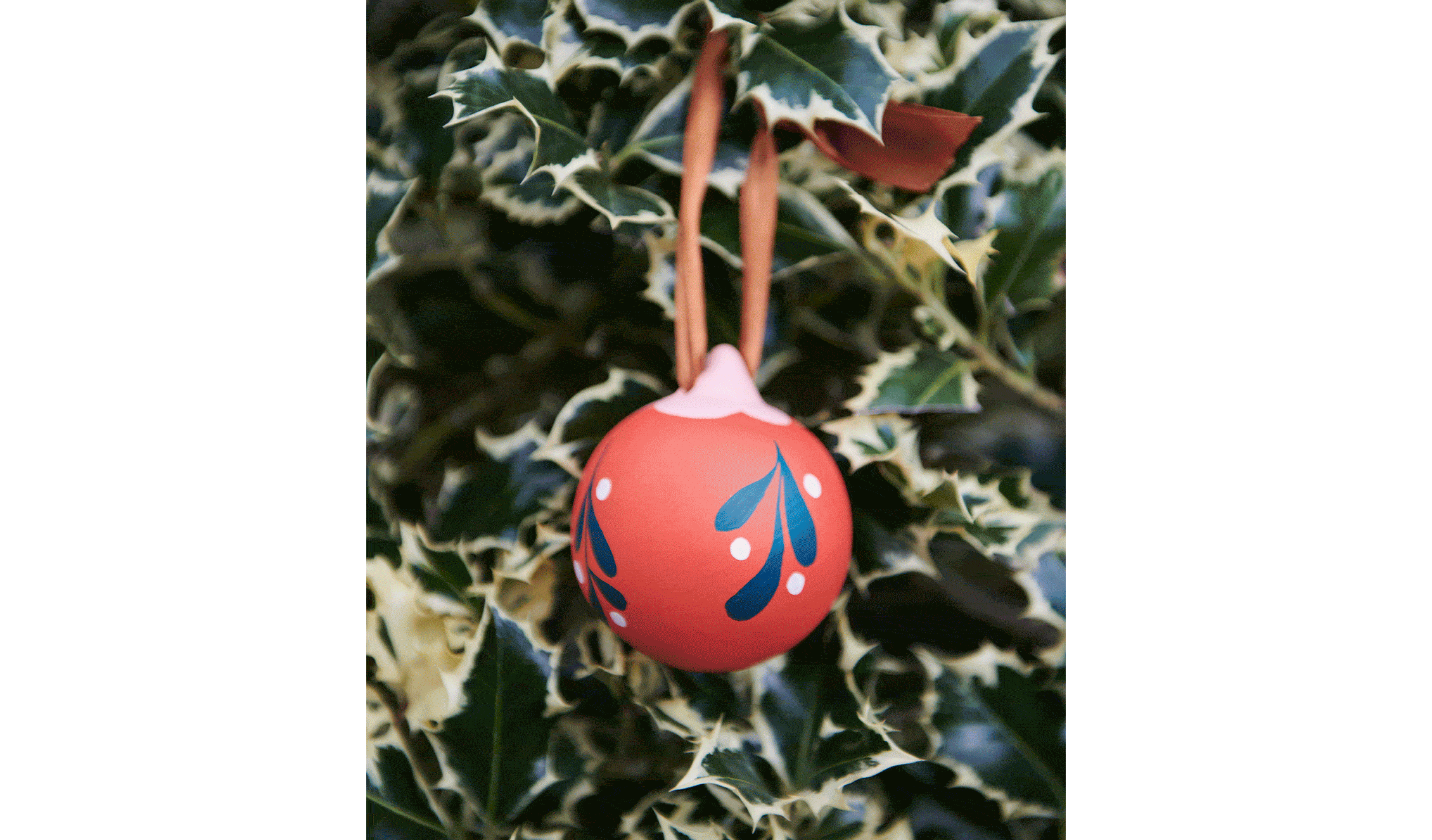 The collaboration between you and La Coqueta resulted in beautiful handmade ceramic baubles. Could you share the inspiration behind these unique creations?
I grew up with the magic of opening the Christmas tree decorations box each year that was a collection of ornaments previously curated over the years from different places, people, and countries. I started creating my own over the years, some in fabric, in clay and fell in love with the quality of these colourful round baubles paired with their large satin ribbon that make you want to hold on to and cherish them. Each bauble tells a story and was carefully made with a lot of love.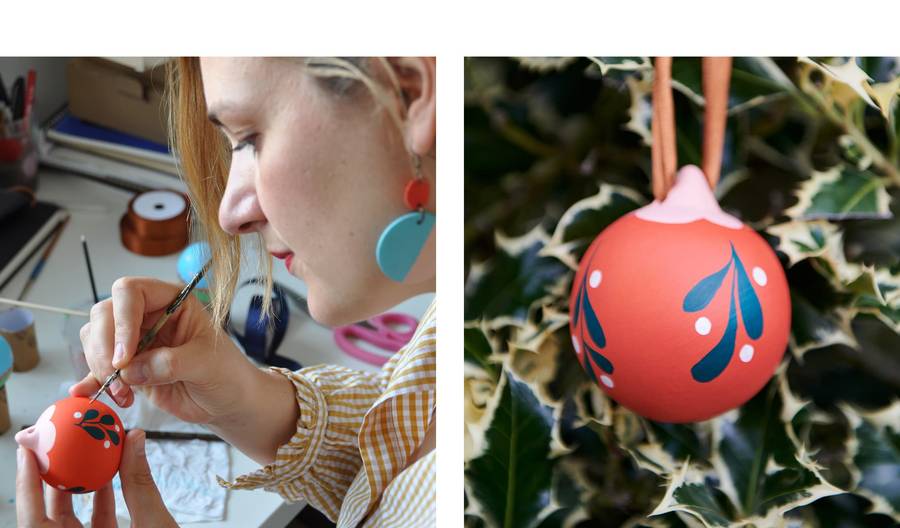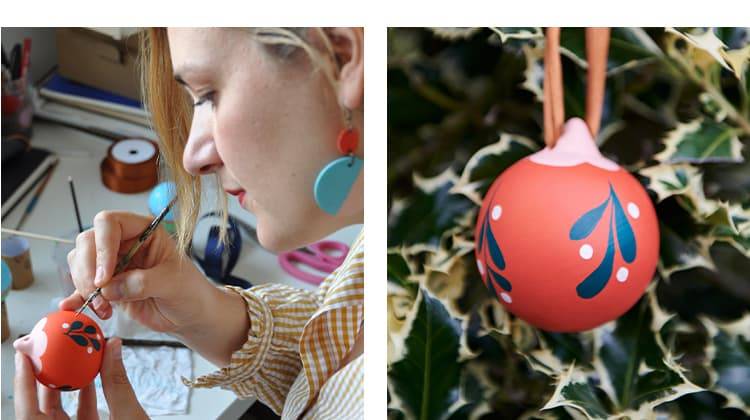 Your baubles feature intricate and charming designs. Are there any specific themes or elements that you enjoy incorporating into your work, and how do they translate into the holiday spirit?
 Nature is a very important part of my work. This collection features mistletoe, winter berries & foliage. I do like a classic theme revisited with a twist, changing the colours and making the shapes bolder is an example.
 I believe joyful colours have a big impact on our mood and wellbeing. For this collection I introduced vivid colours such as a bright blue, sage, pink and red - along with gold touches that shimmer under the tree lights. You can spot a reference to Ric Rac trims and polka dots in my designs. I love polka dots! This is where my designer name "Petitpois" comes from actually. With these colours and patterns, when the baubles are together, they look like sweets and it's hard to resist them!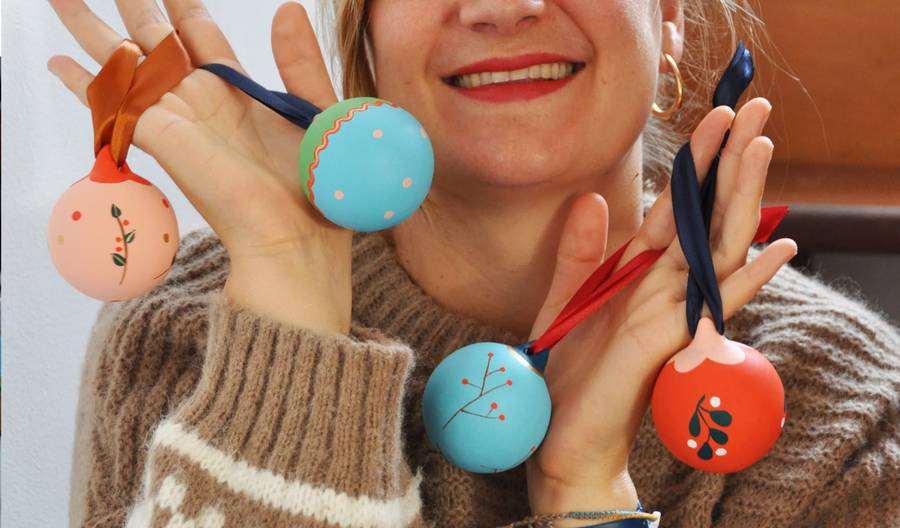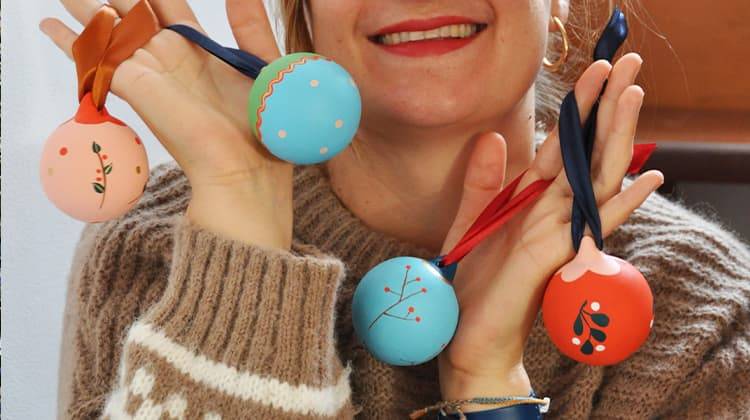 The holiday season often holds special memories and traditions for families. How do you envision your handmade baubles adding to the festive atmosphere of La Coqueta's offerings, and what do you hope families will experience when they decorate their homes with your creations?
 It puts a smile on my face picturing families opening their boxes each year unveiling one of these beautiful ceramic baubles like a treasure, in different parts of the world. I hope it brings them warmth and joy. 
I imagine the baubles being chosen by children, being hung on the tree one by one or tastefully displayed amongst winter foliage branches and colourful candles on a white linen table..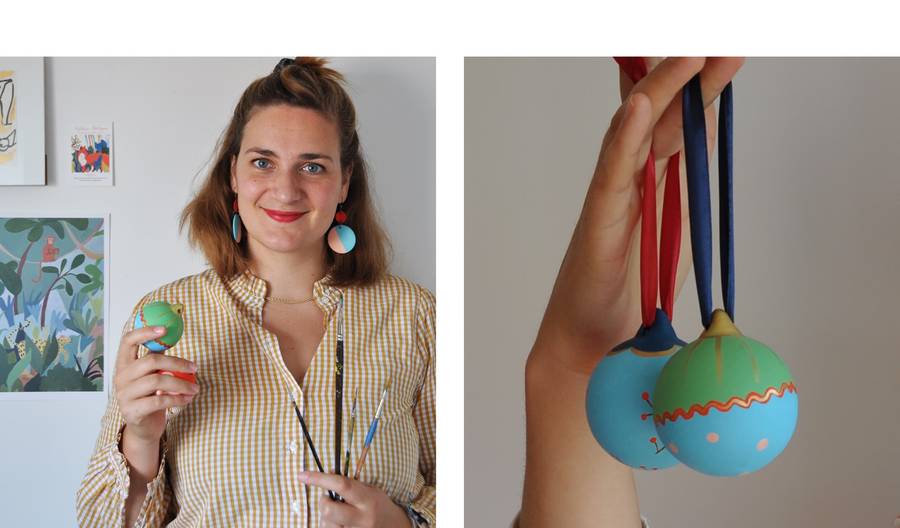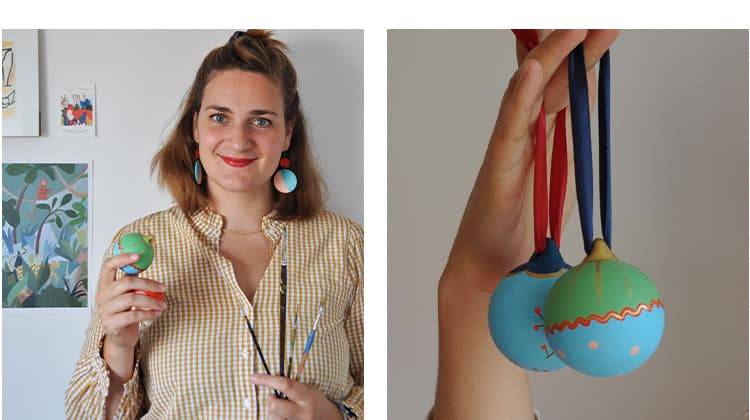 How do you find inspiration for your stunning greetings cards and prints?
My inspiration is what I see every day. It's France where I grew up and often visit, a long walk in the Somerset countryside where I live, a film, the seaside, an art gallery, flicking through children's books, looking at fabrics.. everything really!
I draw and paint a lot and love playing with colours. I often have an idea in mind but am always surprised by the result and process which I love. Certain techniques I use such as block printing can be particularly surprising.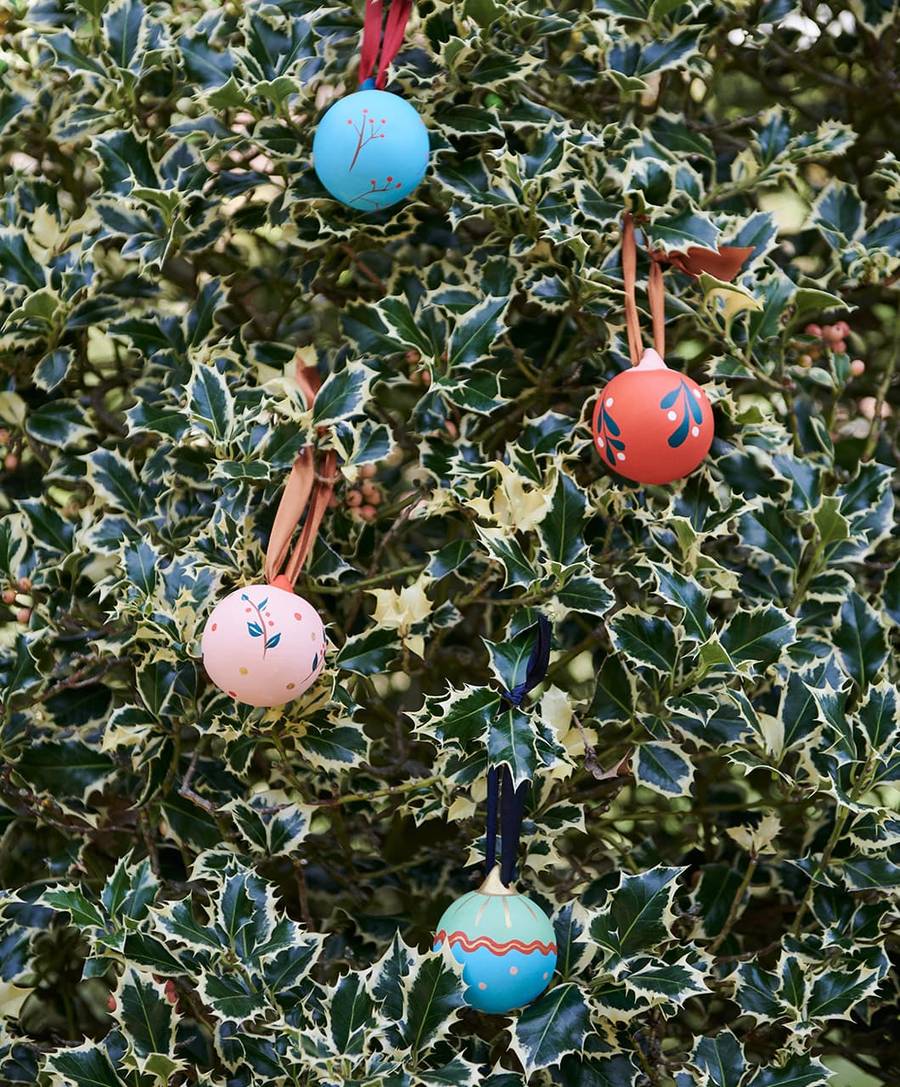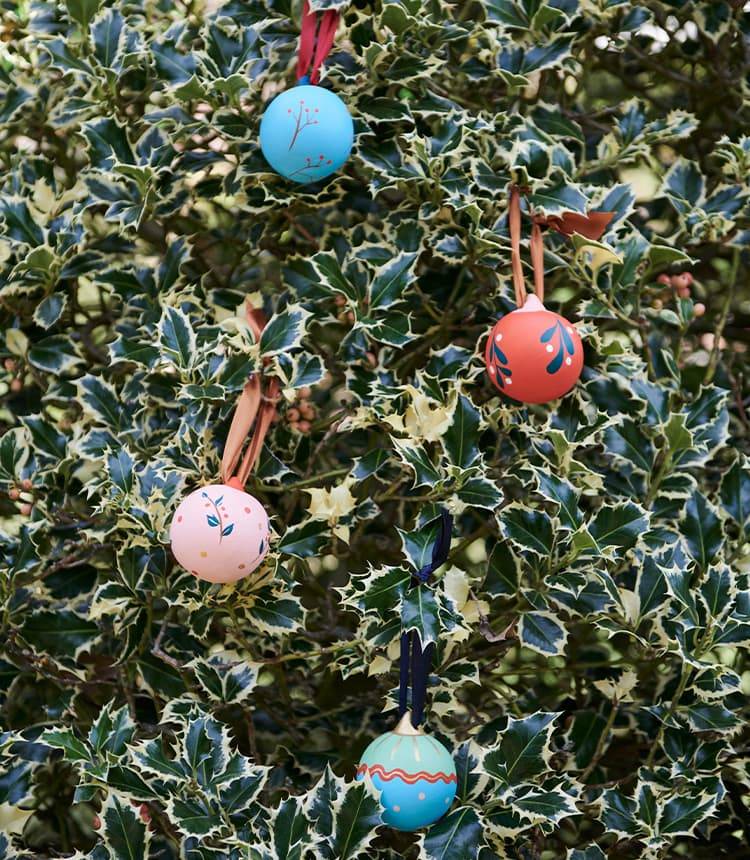 Collaborations can be incredibly rewarding. What was it like collaborating with La Coqueta, and how do you see your unique ceramic baubles enhancing their brand's commitment to quality and craftsmanship?
It is so great when people come together. I was thrilled when la Coqueta contacted me to create a Christmas capsule collection of hand-painted baubles. I absolutely love creating illustrations for them (you may have spotted them on their cards, newsletter, or website)! La Coqueta is a brand dear to my heart. I saw it coming to life almost 11 years ago and it's incredible to see how the brand's offer has expanded whilst retaining the quality and craftsmanship behind each garment. In a world where we want everything quick and fast, it is precious to value things that have taken time to design and make. It makes us want to cherish them more. These Christmas baubles clearly suit the brand's ethos of beautifully and thoughtfully made items that can be passed on from generation to generation. A lot of time, love and care has gone into each of them which makes them so special. There are only so many of these baubles, they are totally unique, and I hope you enjoy them!
Share this article
Share