Love, care and attention to detail are at the helm of every La Coqueta collection, converting nostalgic Spanish aesthetics into modern, wearable designs.
As a mother of five, Celia found it difficult to source high quality yet affordable children's clothing that was uniquely beautiful and durable enough to be passed on to younger siblings. Using personal experiences from raising her own family, Celia was able to create a range that embraced the practicality mothers need, without compromising on aesthetics.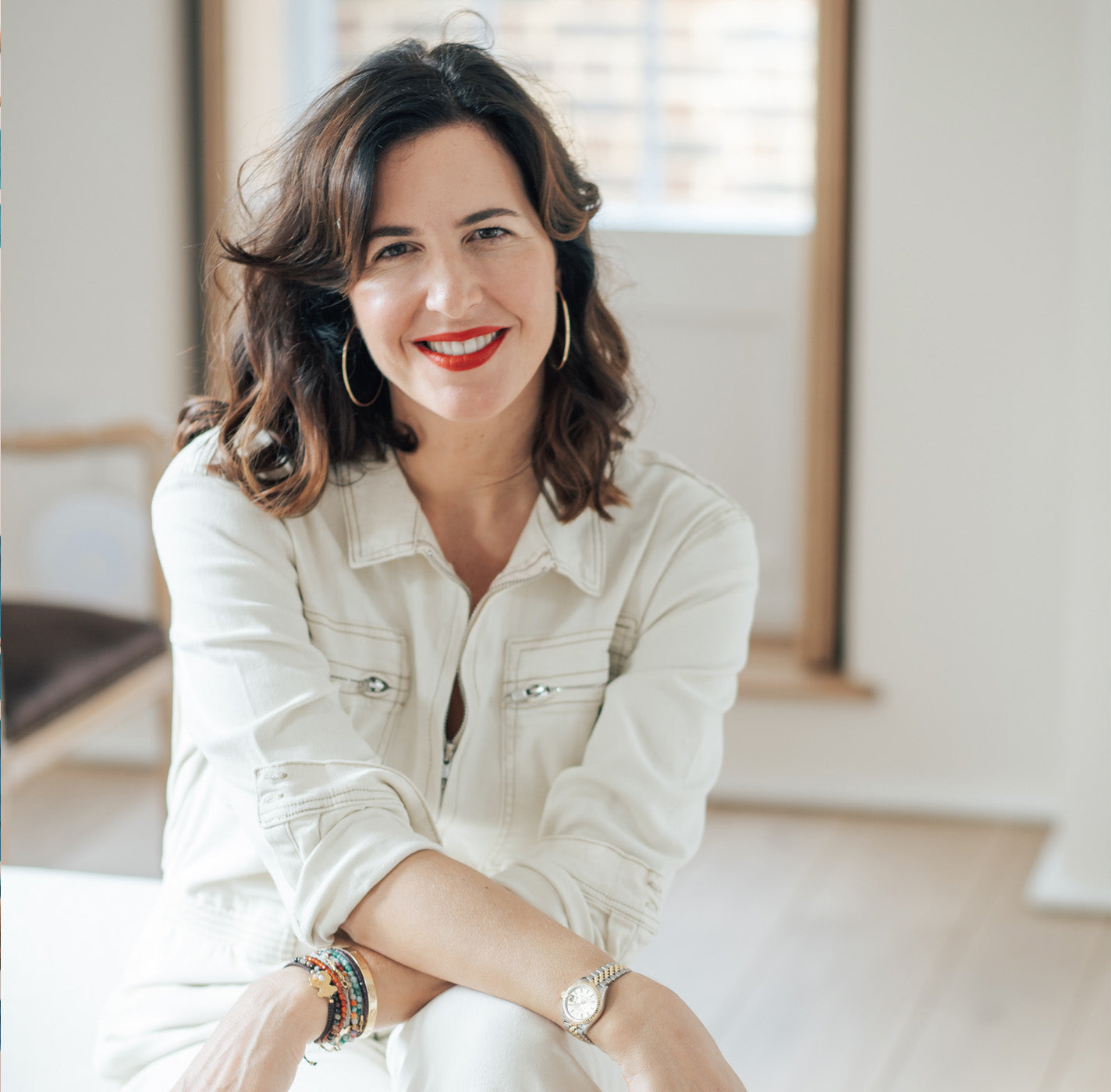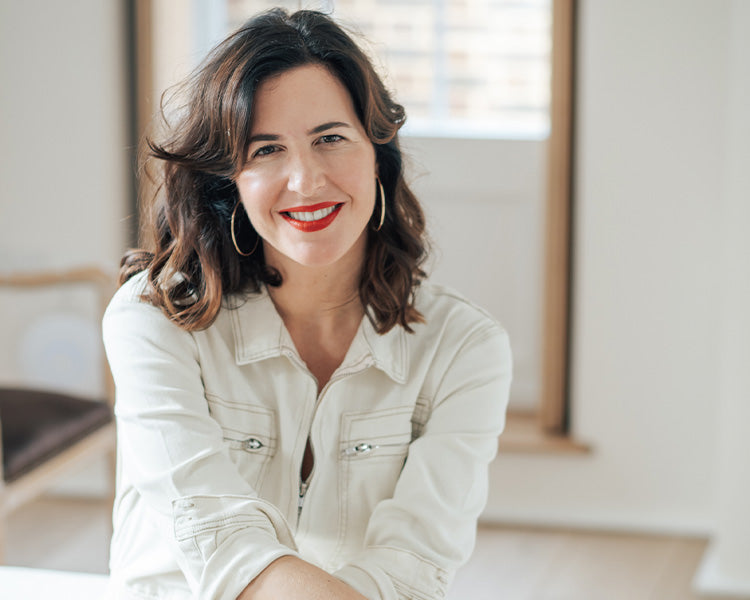 "When I started La Coqueta I had five children under five, there was no way I would have been able to hand wash all my children's clothing!
I know I am not alone in thinking this way and felt it was essential to bring our clients a product that was not only easy to wear, but also to wash. As parents, we need clothing that stands the test of time and can be passed on from one child to the next, just like I do with my own family."
Going Au Natural
In recent years sustainability has been a growing focus point, with people changing consumption habits to help benefit the environment. As consumers, we are now looking at the products we use with more scrutiny, and prioritising what is healthy for our families and healthy for the world. Using natural materials has always been a priority in our collections, opting for organic and clean fibres from socially responsible sources. Some products must contain traces of synthetic fibres (like elastane, or polyamide for outerwear) to function and be long-lasting, but that only amounts to a very small part of our collections.
Whilst we are not perfect, we are trying to do what we can to become more conscious in our collections. Implementing small changes can have a big effect, with our eCommerce bags fully recyclable, and created using 20% recycled material.
It is a no brainer that natural fibre clothing is less toxic to the environment than synthetic fibres – that is why we use cotton, linen, silk, wool, and cashmere in our products. Natural fibres are essentially plant materials, which means they will eventually decompose. We also use organic cotton, which is significantly more eco-friendly and uses fewer pesticides.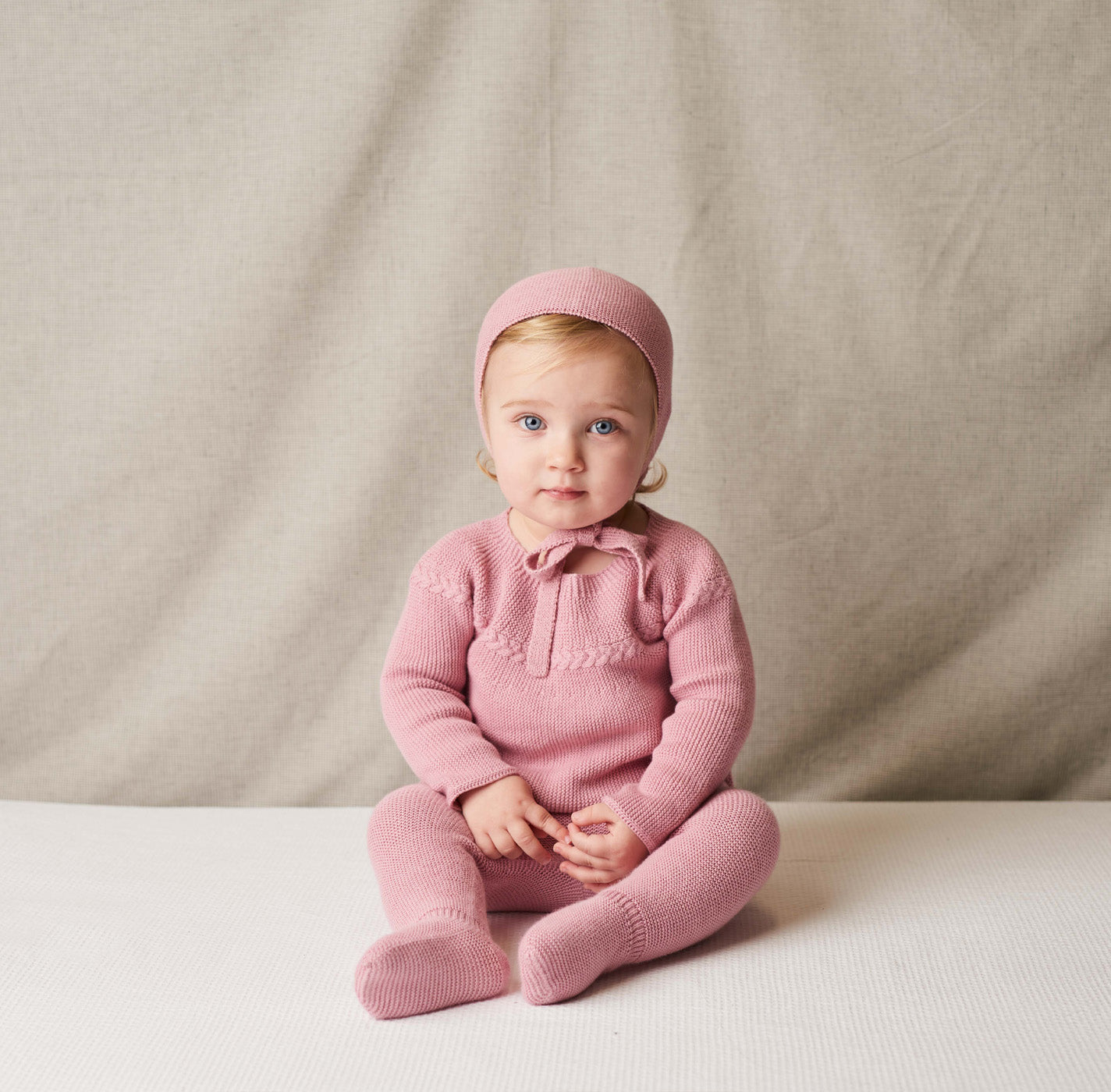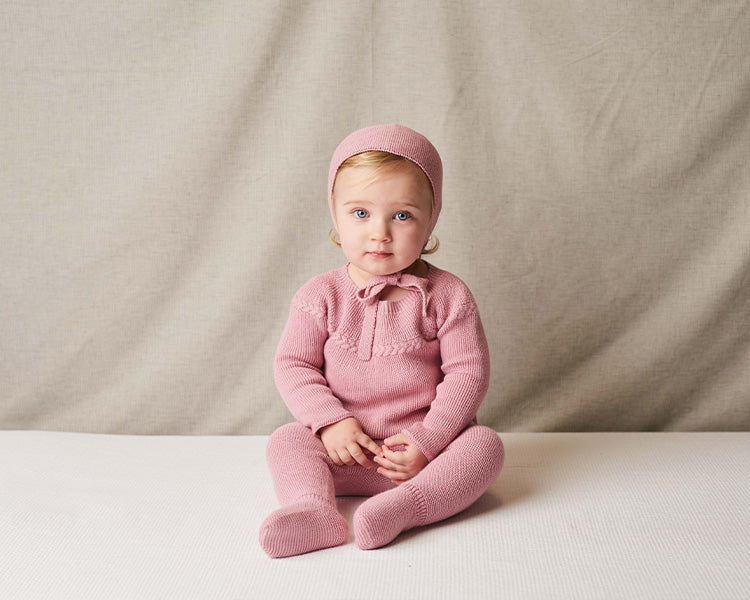 100% Cotton
100% cotton is hypoallergenic and super-soft, making it perfect for sensitive skin. Cotton has fantastic breathing qualities that absorb moisture, keeping your little one cool and dry even on the hottest of days. Our cotton is grown in Peru and traded with Spain, as it has been for many centuries, where it is refined in Spanish ateliers to create soft, breathable fabric which is worn by our client's children. Our Girl Dresses and Baby Sets are also fully lined with 100% cotton, making our garments that extra bit comfortable on delicate skin.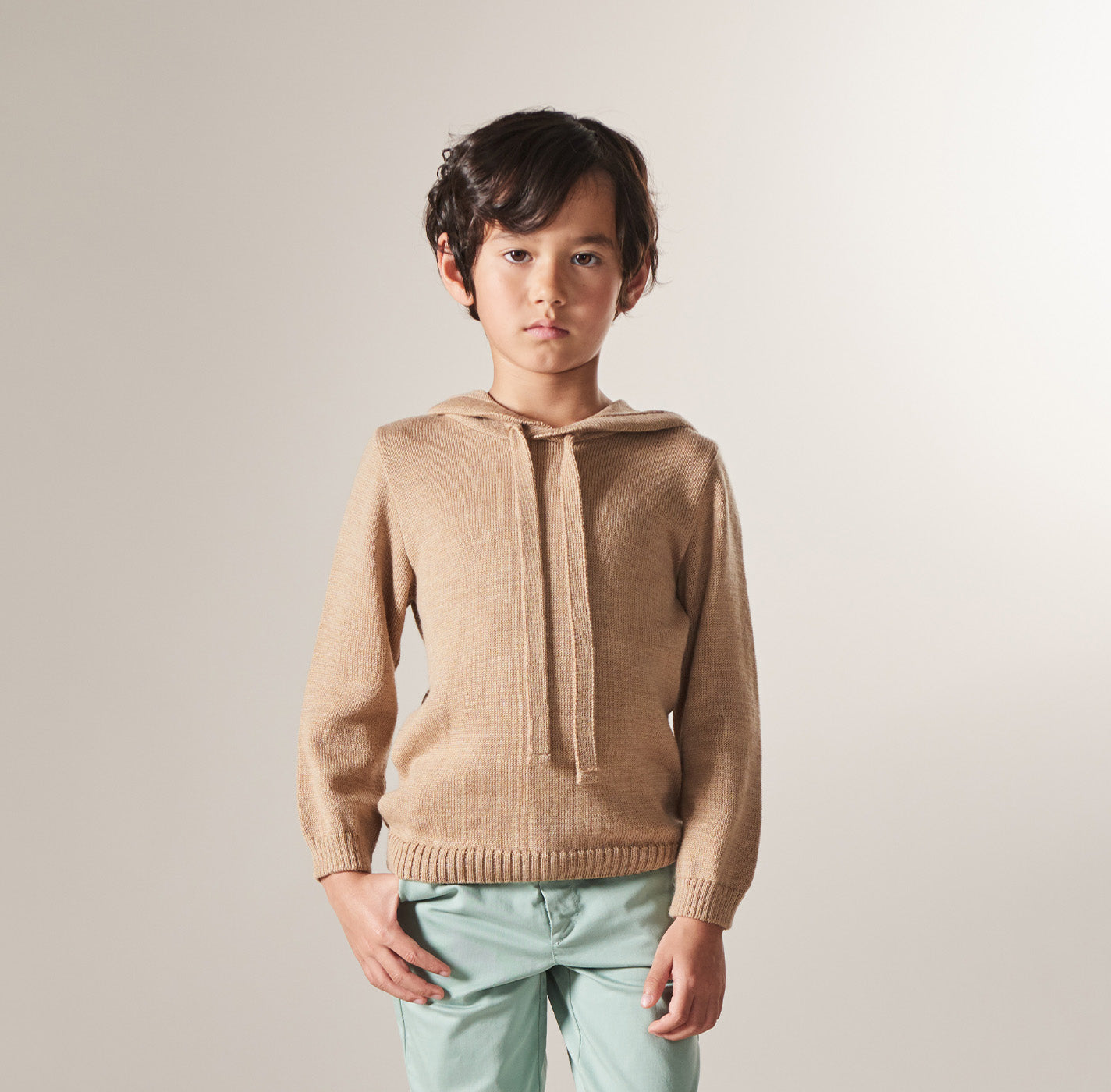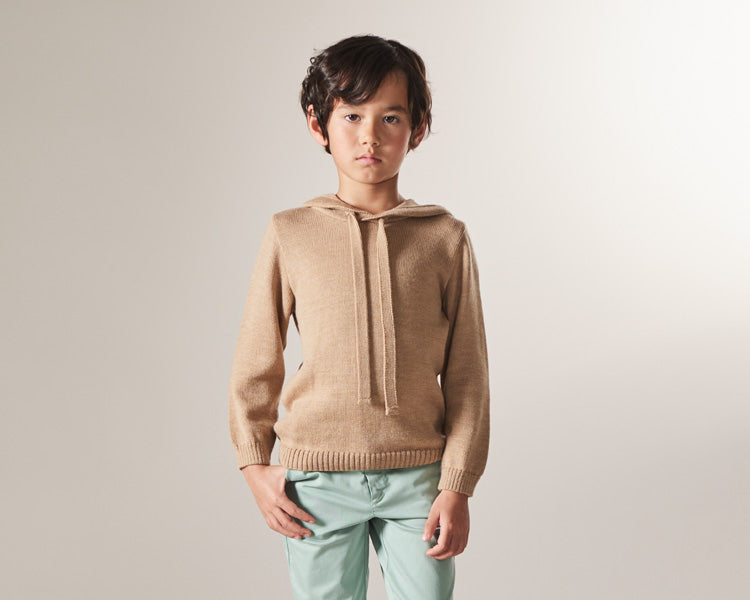 Merino Wool
Merino Wool is an exceptional natural material that comes from Merino sheep, renowned for lightweight, comfortable, and durable properties. Merino sheep produce ultrafine wool which is of a finer and higher quality than other types of wool, with stunning softness, shine and breathability which keeps your little one cool and dry. Our merino wool is hand knitted in small family-run ateliers, finished to the highest standard. Each garment is hand washed and flat dried to ensure it remains in perfect condition on a regular basis. We recommend hand washing to breathe new life into those extra special garments. Merino wool has fantastic natural qualities, including the ability to regulate body temperature, making wool garments perfect for year-round wear.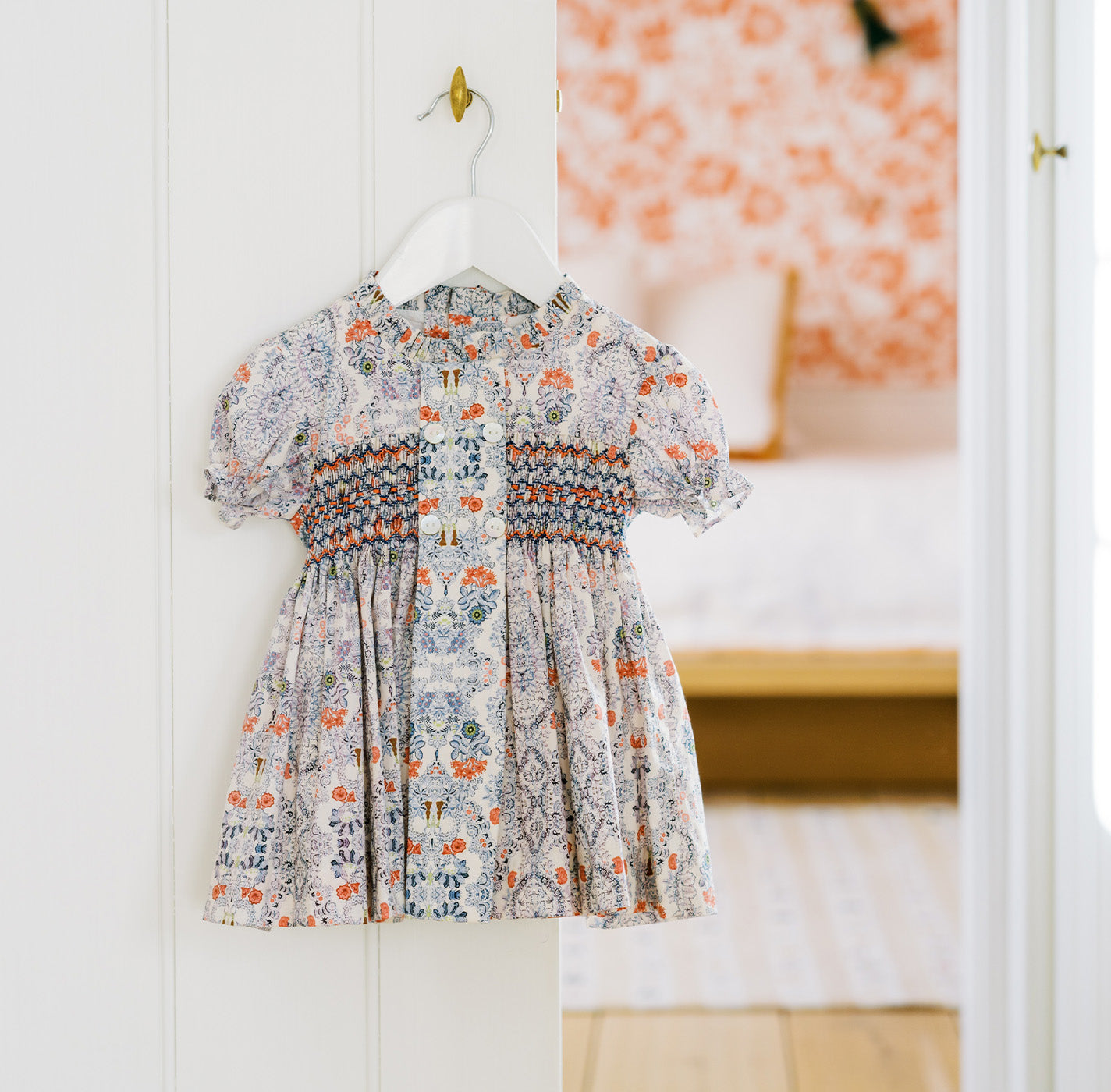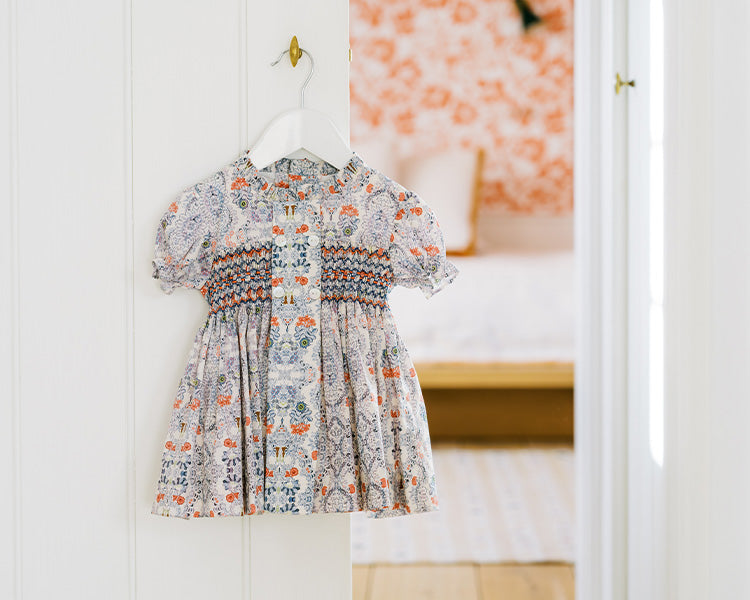 Mother Of Pearl Buttons
An organic composite material produced as an inner shell layer; our mother of pearl buttons add that final delicate touch to a La Coqueta outfit. Extremely strong, resilient, and incredibly beautiful; our mother of pearl buttons have an eye-catching iridescent shimmer. We have an appreciation for the finer things in life and sometimes the smallest of details can add that final touch to a beautiful outfit.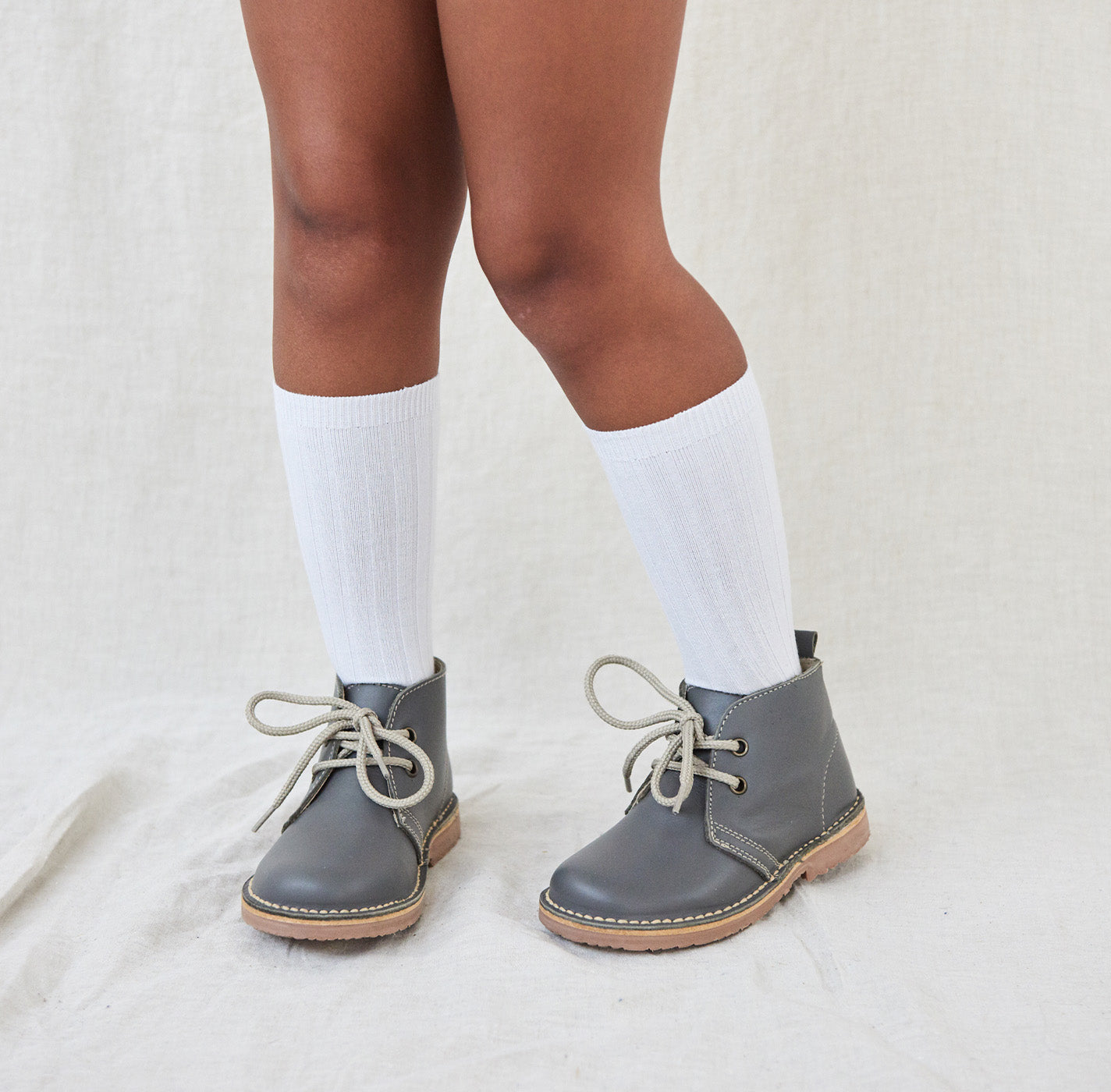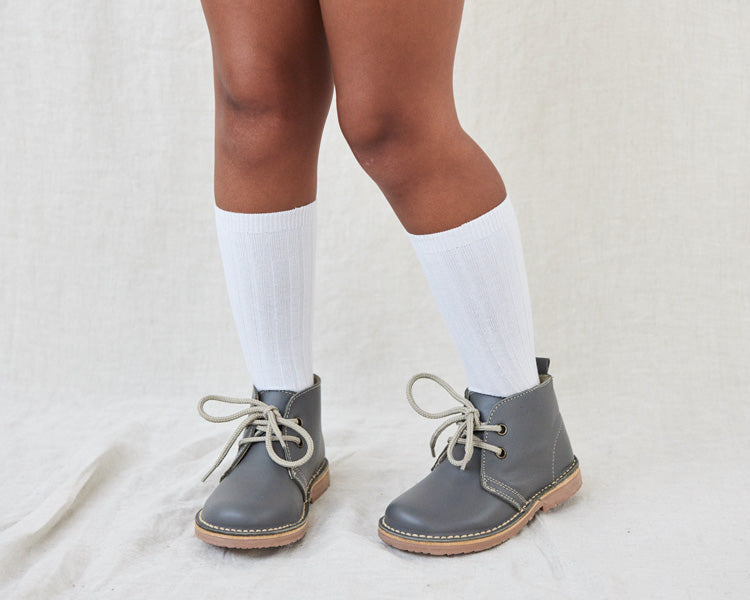 Nappa Leather
"Our shoes are timeless and are made from really beautiful leather that is soft, durable and adapts to the wearer. They can withstand hours of play; my own children live in their La Coqueta shoes and boots and I listen to all their feedback on comfort and fit. I believe it is vital that our footwear not only looks beautiful but can accommodate the everyday needs of children."
Our leather shoes are made from stunning skins grown and manufactured in Southern Spain, renowned for their soft, supple touch and durability. We select the finest 100% Spanish leather in our shoes, adapting to little feet and ensuring they stand the test of time. Our metallic leather shoes require extra special care due to the natural characteristics of the painted leather, which can be prone to minor imperfections.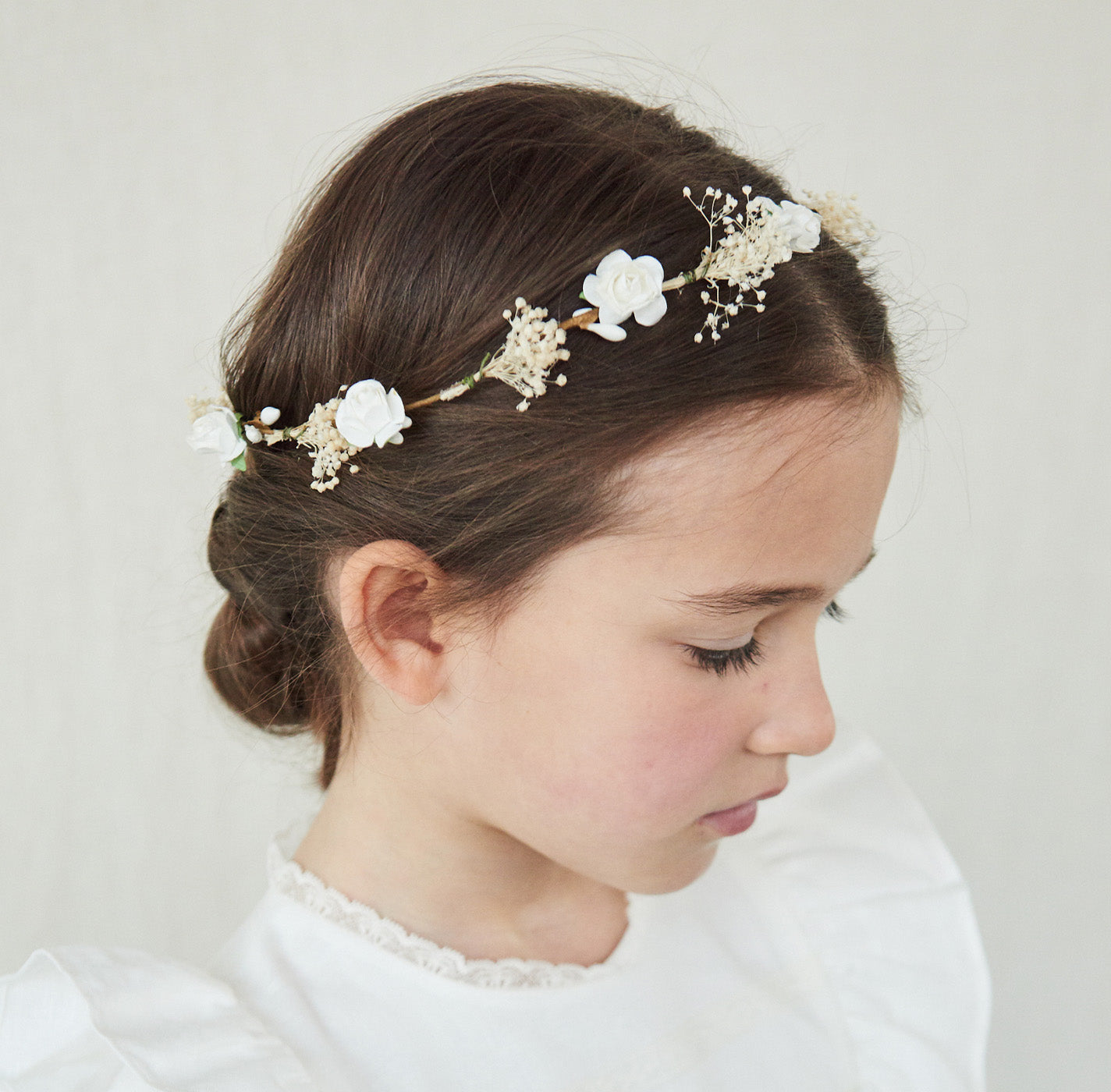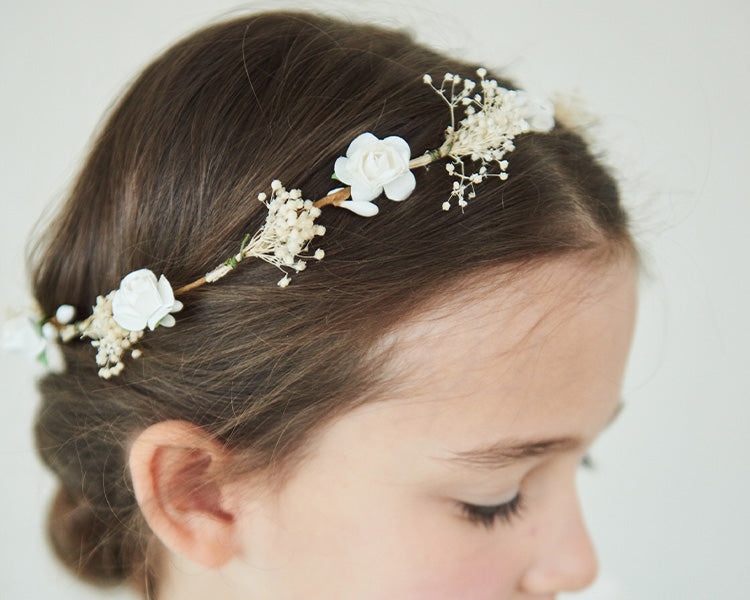 The Final Finish
We firmly believe that less is more, favouring the simplest traditional features for an added measure of elegance. Our hair accessories are handmade at a Spanish family atelier that has been producing together since the 1970s, with the grandfather still handcrafting our special pieces.
We have an exquisite range of hair garlands in our Ceremony Collection which are produced from bunches of gypsophila (Baby's-Breath) that have been grown and dried out during Easter in Spain and delicately woven and intertwined with miniature fabric flowers. 
It can take up to a week to hand produce one of our hairbands, demonstrating the love, devotion and sense of history that goes into every piece. We are proud to work with Spanish families that take pride in their heritage and have a passion for traditional craftsmanship. We have an appreciation for the finer things in life and sometimes the smallest of details can add that final touch to a beautiful outfit.
"The very same man took me to a field of wildflowers and showed me where they were picked from. It is this beautiful floral landscape that I reminisce of every time I look at the beautiful flower garlands in our store."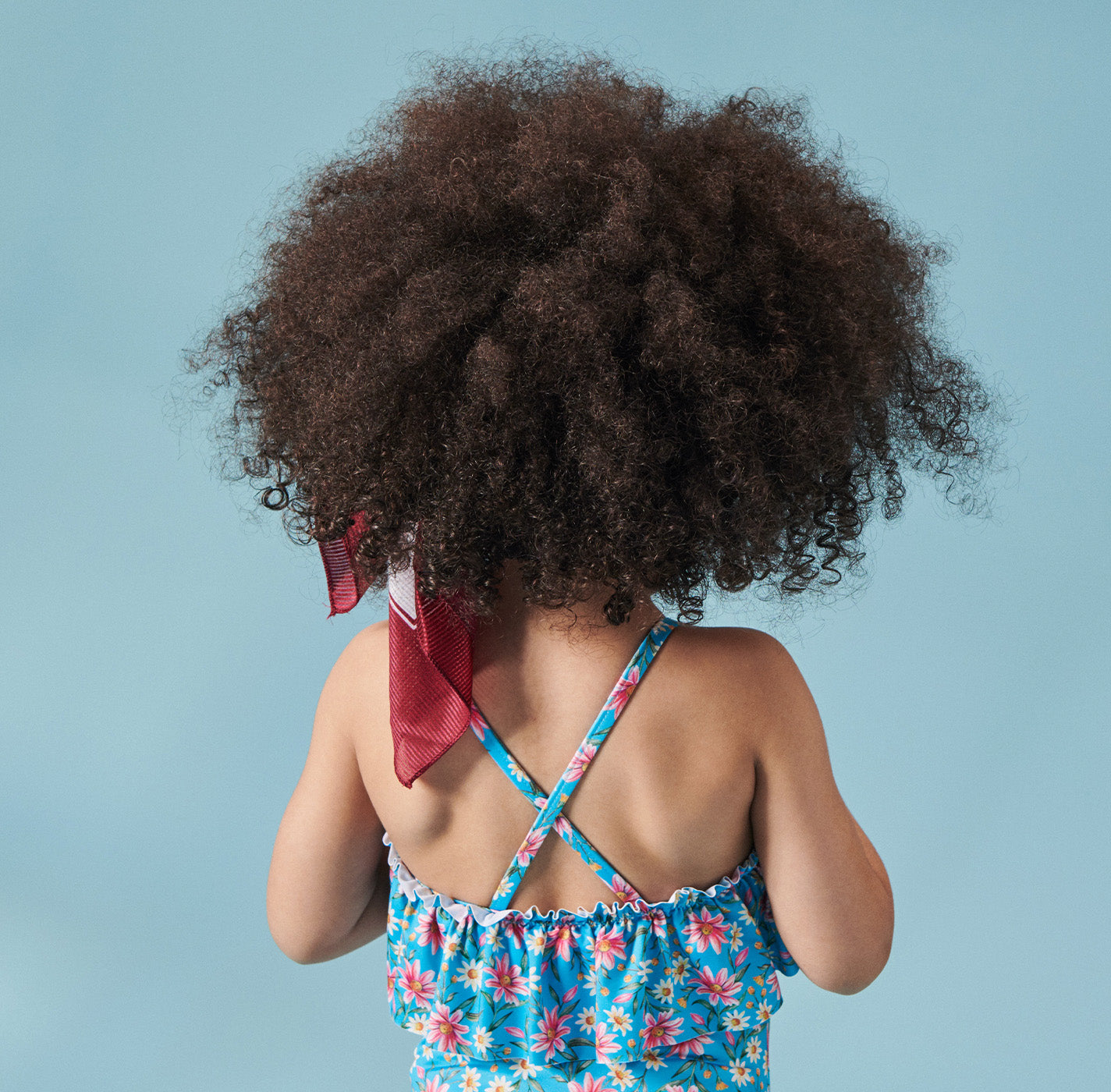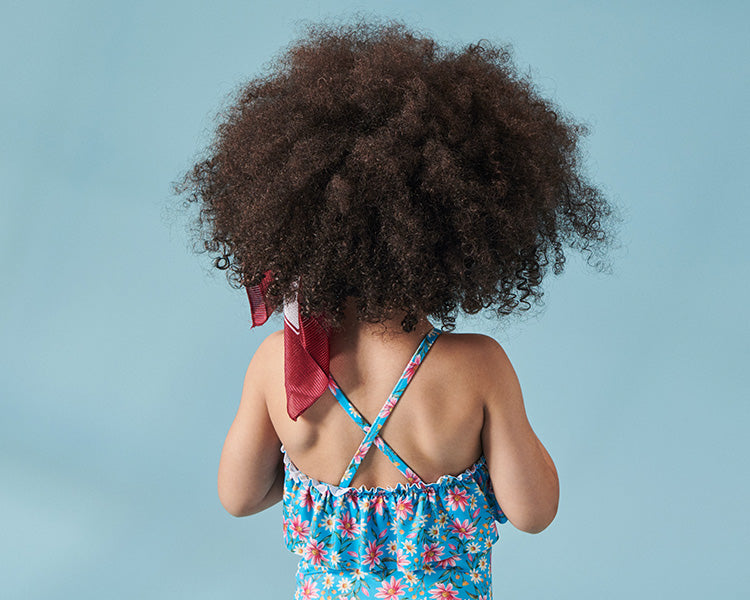 Recycled Materials
Shop consciously with our seasonal swimwear pieces, cut from recycled material that is created from plastic waste and fishing nets salvaged from the ocean. Recycled polyester helps to keep our seas clean and landfills empty, plus less energy is used to create recycled bottle polyester yarn than is needed to create brand new polyester yarn from oil.